SFBayATSC provides 24/7 continuous monitoring and analysis of select ATSC emissions in the San Francisco Bay Area. At present 17 ATSC 1.0 and two ATSC 3.0 emissions are monitored. In general emissions originating from Sutro Tower, San Bruno Mountain, Mount Allison, and Monument Peak are received well at the monitor site in Mountain View, CA.
For more information regarding the monitoring system and the data it provides please see the About pages.
If you would like to have an emission added or have suggestions for improving the system drop us a note via the contact page or email.
RF 7 is dead. Long live RF 7!
March 29, 2023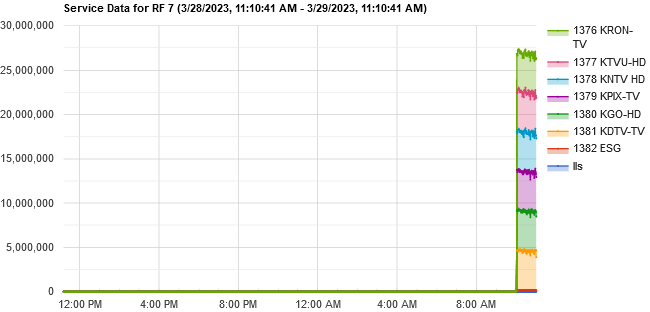 On the dot at 10 AM this morning KRON's ATSC 1.0 emission on RF 7 went down. Almost instantaneously the 3.0 lighthouse came online.
Congratulations to all involved on a successful 3.0 launch!
Unlike our reception of RF 6 KBKF, the RF 7 lighthouse is bright and strong here in Mountain View. We're watching The Price is Right in 3.0 via Project Entangle (which admittedly doesn't offhand appear any better than 1.0…and trick playing HEVC really taxes things!)
For the techies of you out there, the emission has a single PLP using 256qam modulation and a 10/15 code rate. It carries roughly 28 Mbps of baseband packet payload. About 25 Mbps are accounted for in service/LLS bitrates (service bitrates are tallied as the sum of the UDP packet lengths received for a service). All six services utilize ROUTE/DASH (no MMTP services). The services are (at least presently) not encrypted (no A3SA).
Where Has My 4.x Gone?
March 25, 2023
[Update 3/27 The migration of the 4.x channels to their new homes has occurred as of ~4:00 PM. Note that they are still broadcast on RF 7 as well (and likely to be there until the 3.0 cutover on the 29th).]
On March 29 RF 7 (KRON) will convert to an ATSC 3.0 lighthouse. ATSC 3.0 lighthouses allow partnering broadcasters in an area to continue to offer their programming via ATSC 1.0 while also rolling out an ATSC 3.0 version of their broadcast. One of the participating broadcasters allows their RF spectrum to be used for ATSC 3.0, which carries not only their main channel, but also the main channels of their partnering broadcasters (and occasionally some subchannels). In return the partnering broadcasters use their ATSC 1.0 broadcasts to carry the main (and select subchannels) that were previously on the lighthouse's RF channel.
In the Bay Area KRON, KPIX, KGO, KTVU, KDTV, and KNTV are partnering to launch ATSC 3.0, with KRON (RF 7) as the lighthouse. The 4.x channels will be dispersed among the partner broadcasts.
Starting March 29 those of you without an ATSC 3.0 set (which is probably just about all of you!), can find RF 7's current programming at:
4-1 (KRON) will be carried by KTVU on RF 26 and RF 31.
4-2 (Antenna TV) will be carried by KNTV on RF 13
4-3 (Rewind) will be carried by KBCW on RF 28
4-4 (Charge!) is currently carried by KBCW on RF 28
4-5 (Shop TV) will be carried by KGO on RF 12
A rescan of the available channels will be required once the shuffling is done. Those of you using EPG (e.g. TiVo) won't need to rescan but will need to wait until your EPG provider updates its channel list.
NextGen TV (Finally!) Arriving in the Bay Area
March 2, 2023
Strictly speaking the Bay Area has had 3.0 for a while in the form of KBKF on RF 6. But like many of the 3.0 RF 6s KBKF is more of an experimental station demonstrating that ATSC 3.0 can share spectrum with FM radio (thanks to 3.0's OFDM modulation scheme). KBKF presently carries Jewelry TV – not quite one would call a major offering.
Despite being hailed as the technology center of the US, the SF Bay Area seems to be late to the party when it comes to ATSC 3.0 (aka NextGen TV). Even Honolulu lit up with 3.0 last year! (Admittedly it may have provided some excuse for broadcast engineers to visit the islands…)
But it's finally happening: the  major networks will arrive on 3.0 at the end of March.
Maintenance History
April 25, 2018
20230324 – The site has gotten a facelift in preparation for the RF 7 lighthouse coming online. Please let us know if you run into any issues.
20230314 – The recent storms have been wreaking havoc on the main antenna receiving from Sutro Tower and San Bruno Mountain. Impairments across multiple Sutro/San Bruno channels likely means we haven't had a chance to re-orient the antenna and not a problem with the broadcasts.
20210628 – A Winegard HD7000R has been added as the Loma Prieta feed, and RF 6 (ATSC 3.0 KBKF) has been added on that feed.
20210321 – RF 19 (KSTS) has been added to the Fremont feed.
20210321 00:30 – 02:00 – Maintenance – hardware upgrade.
20200728 – RF 34 (KFSF, KDTV) has been added on the Sutro Tower feed.