SFBayATSC provides 24/7 continuous monitoring and analysis of select ATSC emissions in the San Francisco Bay Area. At present 16 ATSC 1.0 broadcasts are monitored. In general emissions originating from Sutro Tower, San Bruno Mountain, Mount Allison, and Monument Peak are received well at the monitor site in Mountain View, CA.
For more information regarding the monitoring system and the data it provides please see the About pages.
If you would like to have a broadcast added or have suggestions for improving the system drop us a note via the contact page or email. We're also looking for an alternate location to receive the KBKF ATSC 3.0 broadcast (broadcasting from Mt. Loma Prieta), so if you'd like to offer up a site get in touch with us!
ATSC 3.0 Charts Are Back!
Though we've still only got the one RF-6  KBKF "frankenstation" in the (south) Bay Area, the 3.0 charts are back!
We've switched from a (pricey) Airwavz RZR-1200 to a (less pricey) HDHomerun Connect 4K Developer Edition.  The HDHomerun's Sony demodulator is generally superior to the older LG demod in the RZR-1200 (the newer RZR-1400 also uses the Sony demod). That, and some antenna tweaking, seems to allow us to get a decent 3.0 signal.
We're still working out some issues with software support for the HDHomerun. It has an annoying tendency to go offline from time to time. So don't be surprised if the charts flatline occasionally. KBKF itself also seems to have some issues where it occasionally transmits only the bootstrap, or service-level signalling but no actual audiovisual streams. In these cases the tuner charts will continue to show some life but the bitrates and packets/s will drop to zero. (more…)
What's up with the ATSC 3.0 charts?
Some of you have been wondering what's happened to the ATSC 3.0 charts. Sad to say, our reception of KBKF is quite challenged here. The vast majority of the time we have a very impaired or no signal, so the 3.0 monitor has been retasked for other NextGen TV-related projects.
We'll bring it back once we're able to get a decent signal. Or, if any of you further south and able to receive KBKF would like to host it, drop us a note. We'll gladly provide the monitor if you provide electricity and internet!
NextGen TV Arrives in the Bay Area!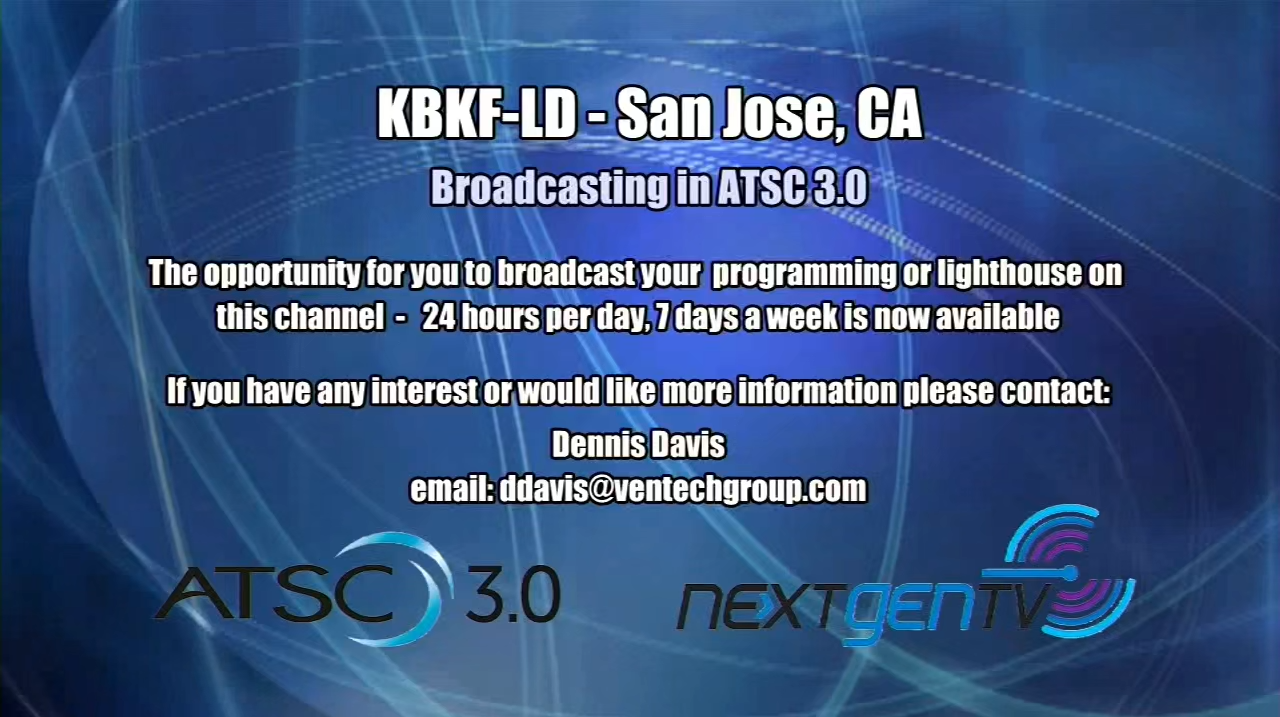 It was a bit unexpected. And the programming isn't exactly a showcase of what NextGen TV can deliver. But at long last the Bay Area has an ATSC 3.0 (aka NextGen TV) broadcast compliments of KBKF! After spending a couple years trekking to Phoenix, Santa Barbara and Las Vegas to go to the emissions it's nice to have one in our own backyard. And we're pleased to add ATSC 3.0 monitoring support at SFBayATSC!
KBKF is operated by Venture Technologies Group, LLC and broadcasts on VHF 6 from Loma Prieta. At the time of writing the 3.0 emission consists of a single PLP utilizing 64 QAM and an 8/15 code rate. This is a bit more robust than other 3.0 emissions, which often utilize 256 QAM, though at the expense of a lower capacity (~14 Mbit/s). In mid June two ROUTE/DASH services were being transmitted – a barker channel as 6-1 and UChan as 6-2. At the moment UChan has taken the 6-1 VC and the barker has signed off. Interestingly the services are using AAC audio. While this was prevalent in early 3.0 phases when AC-4 support for receivers and encoders was still under development, commercial deployments in the US use AC-4. (The ATSC 3.0 specification provides for multiple audio codecs, but only a single codec is allowed in a region. In North America that codec is AC-4.)
(more…)
20210628 – A Winegard HD7000R has been added as the Loma Prieta feed, and RF 6 (ATSC 3.0 KBKF) has been added on that feed.
20210321 – RF 19 (KSTS) has been added to the Fremont feed.
20210321 00:30 – 02:00 – Maintenance – hardware upgrade.
20200728 – RF 34 (KFSF, KDTV) has been added on the Sutro Tower feed.
20200728 – RF 20 (KDTV,KTSF) monitoring has been discontinued due to poor reception.
20200703 – RF 20 (KDTV, KTSF) has been added on the Fremont feed. RF 42 (KTLN) has been discontinued as KTLN is now operating on RF 22 and the RF 42 transmitter has been shut down. Historical data for RF 42 remains available.